Alex Webster is very much over the tie-thing "I play cricket in Southland and I get "it was a tie" pretty much every Saturday (and most Thursdays). As we were driving back from a victorious trip to Tapanui (two and a half hour local derby) I heard a few shouts about them winning a Super Over to take the series. I suggested they might want to make sure they score enough boundaries this time. This is now my stock response – seems to go down well."
England win the toss and will bowl
"Hopefully we'll get on top of the weather and know what we'll be chasing," says Morgan.
England bring back Vince, Rashid and Mahmood; Malan, Pat Brown and Parkinson are out. Harsh.
Right that's it, I'm going to quickly attack the chocolate digestives.
Updated

Oh John Starbuck, what would we do without you?
"Good morning, as I suppose one should say, though it feels like the middle of the night. Still, what with MOTD finishing late, and having watched the BBC2 100 best novels programme (I worked out I'd read 27 of the 100, but I expect plenty of OBO readers have read more) I felt up to tacking the final match of this series, especially as it's now tied, though how long I last will depend on how much of the remaining Glenmorangie I can imbibe. Still, today is Sunday so I'm due another lie-in and let the world go hang. Up to now it's been the Radio 3 weird krautrock-style soundtracks ( very 1970s) and I'm now going over to TMS for a bit of weather-related chat to support the OBO profundities. Over to you …."
Oooh, 100 best novels – that's a challenge. Is it this list?
So the latest is that there will be a toss at 2.10 NZ time ( 1.10am GMT) with play due to start, weather permitting, at 2.30pm ( 1.30am GMT).
Updated

My brother Sam has delivered a Whatsapp from Auckland on the family cricket chat. He's sitting in the damp stands and has sent me a photo of the tie he was given outside the ground…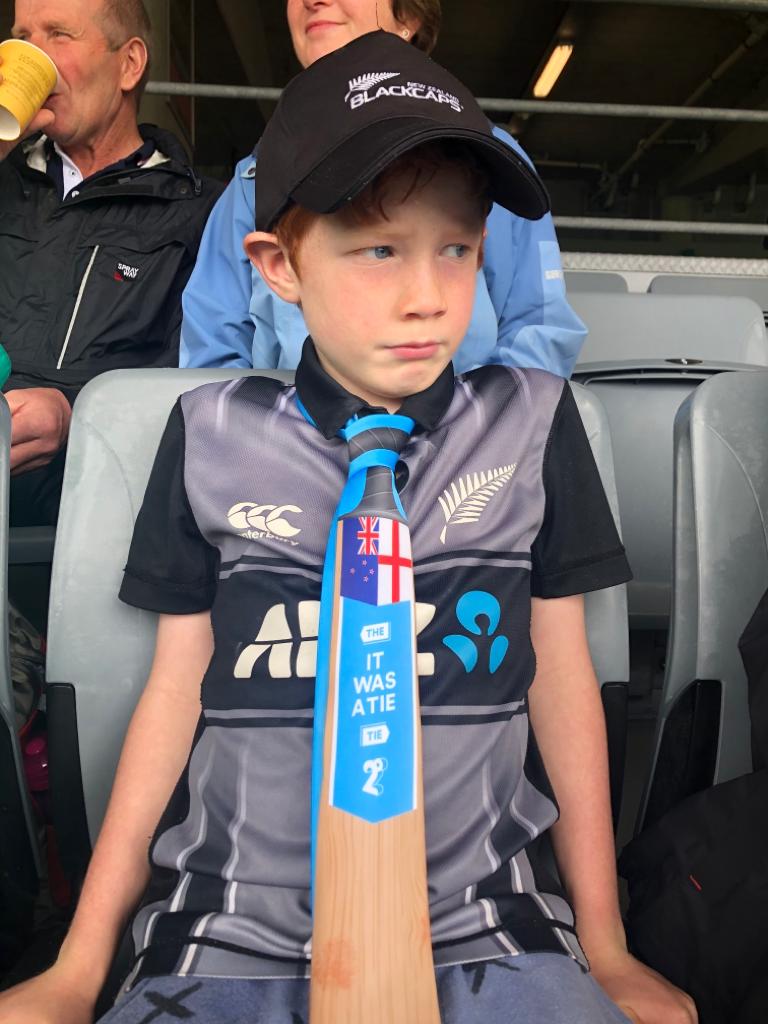 Updated

Ok, so Ian Ward has a jacket on but the rain seems to have stayed away. He, David Lloyd and Nasser chew the fat on Tom Banton, Matt Parkinson "he's got the wood on New Zealand" and Dawid Malan. We see the ground – hmmm, nobody there yet. Ah, it's been raining all morning apparently and the forecast is set squiffy. But do stick with me. Send me emails, go on.
Preamble
Good morning everyone, the sleepy-eyed and the bushy-tailed. We travel today to Auckland for the final IT20 of the series where, conveniently enough, a series-decider is waiting for us, the scoreline currently: England 2. New Zealand 2.
Only a week ago they were playing a rugby-league triple-header at Eden Park and England will be hoping for a better result than Great Britain managed – they do however have the buffer of a record-highest score in their victory at Napier to keep them jolly.
There are more short boundaries today at Eden Park, though this time in the diagonal over fine-leg. Dawid Malan, centurion in the last game, will be licking his lips – assuming he plays. Anyway, over to Eden Park to see if the weather gods are being kind.
Updated

Nguồn
The Guardian